Mother's Day is just around the corner! Here are some of the books I've been sharing lately with the moms in my life.
For the Expecting Mom:
Bringing Up Bébé by Pamela Druckerman
This was a parenting book I actually enjoyed reading when I was pregnant, so when a friend recently shared she was expecting, Bringing Up Bébé was my first recommendation. Part memoir, part parenting book, Pamela Druckerman shares her experiences as an expat living in Paris and raising children. While it was interesting to hear how French babies "do their nights" (sleep through the night) after a few months or have excellent table manners, what I found most useful as a nervous mama-to-be was the simple realization (and reassurance) that there are many ways to parent and varied advice from experts depending on where you live in the world. This book was also great on audio–entertaining and conversational.
For more on Bringing Up Bébé you can listen to this review from NPR when the book came out in 2012:
For the Mom Heading Back to Work:
The Fifth Trimester: The Working Mom's Guide to Style, Sanity, & Success After Baby by Lauren Smith Brody
We read up about pregnancy and parenting, but what about tips for reentering the workforce after maternity leave? That's where Lauren Smith Brody comes in with The Fifth Trimester. Brody was the executive editor at Glamour magazine when she made her own transition to working mom and has since made it her mission to help other mothers.  The book is full of practical tips and reads like a helpful friend walking you through what can be a challenging phase–from evaluating schedule options, to figuring out a postpartum wardrobe and handling feelings of "I have to quit". This is another title that was an ideal audio read–perfect company for pacing the house with a fussy baby!
For more on The Fifth Trimester, check out this excellent interview from Westport, Connecticut's public library:
Pair this one with Bye Bye Time by Elizabeth Verdick or I Love You All Day Long by Francesca Rusackas.
These are two read alouds a friend sent me to share with my daughter before she started daycare. They are comforting reads about a parent's love for a child, even when you are apart. (Cue the waterworks).
For Moms Juggling Career and Family
I Know How She Does It: How Successful Women Make the Most of Their Time and 168 Hours: You Have More Time Than You Think by Laura Vandarkam
I have become a big Laura Vanderkam fan this year. Her basic premise is that we each have 168 hours in our weeks and it's up to us to spend that time wisely to build the lives we want. In both books, she shares week-long time logs she gathered of how people spend their 168 hours and encourages readers to try the exercise themselves. I Know How She Does It focuses specifically on women with big jobs, who are still managing to spend plenty of quality time with their families, exercise and have leisure time. Both of these books have made me more mindful and creative about how I choose to structure my day and spend my time. I also appreciate Vandarkam's transparency in parts of the book and on her podcast, "Best of Both Worlds" with what she and participants prioritize and what they outsource or have help with. Everyone's situation is different, but I think it's useful to have windows into how various women are making life and career work.
Here's one episode of the "Best of Both Worlds" podcast you can check out:

Episode 2: The 2nd Shift: Evenings with Your Kids
"Make the most of your evenings with your children. Working moms and kids can be tired. How to make sure you both enjoy your time together."
And if you enjoy her books or the podcast, stay tuned–Laura Vandarkam's next book Off the Clock comes out on May 29th! I already have my library hold placed.
For the Mom Looking for Her Tribe…And a Laugh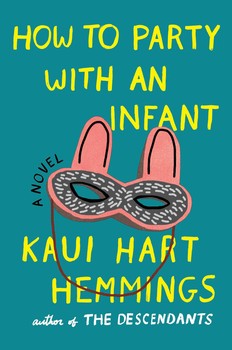 How to Party With an Infant by Kaui Hart Hemmings
For a funny, fictional read check out How to Party With an Infant. Mele, a single mom to daughter Ellie joins the San Francisco Mother's Club looking for the elusive perfect "mom friends". From the author of The Descendants, this is a lighthearted, relatable look at navigating motherhood, growing up, and leaning on newfound relationships along the way. Check out this Glommable interview to hear more from author Kaui Hart Hemmings.
For the DIY Mom
Lovable Livable Home: How to Add Beauty, Get Organized, and Make Your House Work for You by John and Sherry Petersik
John and Sherry Petersnik are the couple behind Young House Love, the DIY home decorating blog. This book is perfect for anyone tired of tripping over toys and staring at blank walls. Their home decor ideas are simple, practical, and geared toward the needs of young families. This was the inspiration I needed to finally buy some toy storage and deal with my entryway.
For Moms with the Travel Bug
At Home in the World: Reflections on Belonging While Wandering the Globe by Tsh Oxenreider
I shared At Home in the World in What I've Been Reading (Part 1)…. This is a travel memoir from Tsh Oxenreider, a writer who spent a year traveling the world with her husband and three young kids. This book is inspiration for the mom who hasn't gotten the travel bug out of her system–whether that means finally mustering the courage for that two week trek around Europe with a toddler in tow or planning some fun day trips in your own backyard.
For the Outdoorsy Mom Who Loved Bringing Up Bébé
There's No Such Thing as Bad Weather: A Scandinavian Mom's Secrets for Raising Healthy, Resilient and Confident Kids (from Friluftsliv to Hygge) by Linda Åkeson McGurk
This book currently resides on my nightstand and so far I'm really enjoying it. If you're already a fan of Bringing Up Bébé , this is the same concept, but what Scandinavians can teach us about parenting instead. (Essentially, get our kids outside!) Originally from Sweden, Linda Åkeson McGurk is raising her children in the Midwest when she begins to notice different social norms around children and nature. When a family situation arises, she decides it is a good opportunity to move back home and see if the nature loving, "there's no such thing as bad weather" Sweden of her childhood is still thriving. Check out Is Friluftsliv the New Hygge? for more on this title.
I've clearly been immersing myself in books for mothers at my stage of life–with little ones at home. What books would you recommend to the moms in your life?