It's the most wonderful time of the year…to be reading.
Is there anything better than sitting on the beach or poolside with a great book? (Or if you're in my stage of life, sneaking outside during naptime to read!)
Here are 15 new books to pick up this summer. Get those library holds ready!
by Elizabeth Gilbert
"In 1940, nineteen-year-old Vivian Morris has just been kicked out of Vassar College, owing to her lackluster freshman-year performance. Her affluent parents send her to Manhattan to live with her Aunt Peg, who owns a flamboyant, crumbling midtown theater called the Lily Playhouse. There Vivian is introduced to an entire cosmos of unconventional and charismatic characters, from the fun-chasing showgirls to a sexy male actor, a grand-dame actress, a lady-killer writer, and no-nonsense stage manager. But when Vivian makes a personal mistake that results in professional scandal, it turns her new world upside down in ways that it will take her years to fully understand. Ultimately, though, it leads her to a new understanding of the kind of life she craves – and the kind of freedom it takes to pursue it. It will also lead to the love of her life, a love that stands out from all the rest."
by Elizabeth Acevedo
"Ever since she got pregnant freshman year, Emoni Santiago's life has been about making the tough decisions—doing what has to be done for her daughter and her abuela. The one place she can let all that go is in the kitchen, where she adds a little something magical to everything she cooks, turning her food into straight-up goodness.
Even though she dreams of working as a chef after she graduates, Emoni knows that it's not worth her time to pursue the impossible. Yet despite the rules she thinks she has to play by, once Emoni starts cooking, her only choice is to let her talent break free."
by Marjan Kamali
"Roya is a dreamy, idealistic teenager living in 1953 Tehran who, amidst the political upheaval of the time, finds a literary oasis in kindly Mr. Fakhri's neighborhood book and stationery shop. She always feels safe in his dusty store, overflowing with fountain pens, shiny ink bottles, and thick pads of soft writing paper.
When Mr. Fakhri, with a keen instinct for a budding romance, introduces Roya to his other favorite customer—handsome Bahman, who has a burning passion for justice and a love for Rumi's poetry—she loses her heart at once. And, as their romance blossoms, the modest little stationery shop remains their favorite place in all of Tehran.
A few short months later, on the eve of their marriage, Roya agrees to meet Bahman at the town square, but suddenly, violence erupts—a result of the coup d'etat that forever changes their country's future. In the chaos, Bahman never shows. For weeks, Roya tries desperately to contact him, but her efforts are fruitless. With a sorrowful heart, she resigns herself to never seeing him again.
Until, more than sixty years later, an accident of fate leads her back to Bahman and offers her a chance to ask him the questions that have haunted her for more than half a century: Why did he leave? Where did he go? How was he able to forget her?"
by Colson Whitehead
(*Coming July 16, 2019)
"As the Civil Rights movement begins to reach the black enclave of Frenchtown in segregated Tallahassee, Elwood Curtis takes the words of Dr. Martin Luther King to heart: He is "as good as anyone." Abandoned by his parents, but kept on the straight and narrow by his grandmother, Elwood is about to enroll in the local black college. But for a black boy in the Jim Crow South of the early 1960s, one innocent mistake is enough to destroy the future. Elwood is sentenced to a juvenile reformatory called the Nickel Academy, whose mission statement says it provides "physical, intellectual and moral training" so the delinquent boys in their charge can become "honorable and honest men."…The tension between Elwood's ideals and Turner's skepticism leads to a decision whose repercussions will echo down the decades. Formed in the crucible of the evils Jim Crow wrought, the boys' fates will be determined by what they endured at the Nickel Academy. Based on the real story of a reform school in Florida that operated for one hundred and eleven years and warped the lives of thousands of children, The Nickel Boys is a devastating, driven narrative that showcases a great American novelist writing at the height of his powers."
by Jennifer Weiner
"Jo and Bethie Kaufman were born into a world full of promise. Growing up in 1950s Detroit, they live in a perfect "Dick and Jane" house, where their roles in the family are clearly defined. Jo is the tomboy, the bookish rebel with a passion to make the world more fair; Bethie is the pretty, feminine good girl, a would-be star who enjoys the power her beauty confers and dreams of a traditional life.
But the truth ends up looking different from what the girls imagined. Jo and Bethie survive traumas and tragedies. As their lives unfold against the background of free love and Vietnam, Woodstock and women's lib, Bethie becomes an adventure-loving wild child who dives headlong into the counterculture and is up for anything (except settling down). Meanwhile, Jo becomes a proper young mother in Connecticut, a witness to the changing world instead of a participant. Neither woman inhabits the world she dreams of, nor has a life that feels authentic or brings her joy. Is it too late for the women to finally stake a claim on happily ever after?"
by Martha Hall Kelly
"The million-copy bestseller Lilac Girls introduced the real-life heroine Caroline Ferriday. Now Lost Roses, set a generation earlier and also inspired by true events, features Caroline's mother, Eliza, and follows three equally indomitable women from St. Petersburg to Paris under the shadow of World War I."
by Lara Prior-Palmer
"At the age of nineteen, Lara Prior-Palmer discovered a website devoted to "the world's longest, toughest horse race"―an annual competition of endurance and skill that involves dozens of riders racing a series of twenty-five wild ponies across 1,000 kilometers of Mongolian grassland. On a whim, she decided to enter the race. As she boarded a plane to East Asia, she was utterly unprepared for what awaited her.
Riders often spend years preparing to compete in the Mongol Derby, a course that re-creates the horse messenger system developed by Genghis Khan, and many fail to finish. Prior-Palmer had no formal training. She was driven by her own restlessness, stubbornness, and a lifelong love of horses. She raced for ten days through extreme heat and terrifying storms, catching a few hours of sleep where she could at the homes of nomadic families. Battling bouts of illness and dehydration, exhaustion and bruising falls, she decided she had nothing to lose. Each dawn she rode out again on a fresh horse, scrambling up mountains, swimming through rivers, crossing woodlands and wetlands, arid dunes and open steppe, as American television crews chased her in their jeeps."
by Helen Hoang
"From the critically acclaimed author of The Kiss Quotient comes a romantic novel about love that crosses international borders and all boundaries of the heart…Khai Diep has no feelings. Well, he feels irritation when people move his things or contentment when ledgers balance down to the penny, but not big, important emotions—like grief. And love. He thinks he's defective. His family knows better—that his autism means he just processes emotions differently. When he steadfastly avoids relationships, his mother takes matters into her own hands and returns to Vietnam to find him the perfect bride.
As a mixed-race girl living in the slums of Ho Chi Minh City, Esme Tran has always felt out of place. When the opportunity arises to come to America and meet a potential husband, she can't turn it down, thinking this could be the break her family needs…"
by Balli Kaur Jaswal
"The British-born Punjabi Shergill sisters—Rajni, Jezmeen, and Shirnia—were never close and barely got along growing up, and now as adults, have grown even further apart. Rajni, a school principal is a stickler for order. Jezmeen, a thirty-year-old struggling actress, fears her big break may never come. Shirina, the peacemaking "good" sister married into wealth and enjoys a picture-perfect life.
On her deathbed, their mother voices one last wish: that her daughters will make a pilgrimage together to the Golden Temple in Amritsar to carry out her final rites. After a trip to India with her mother long ago, Rajni vowed never to return. But she's always been a dutiful daughter, and cannot, even now, refuse her mother's request. Jezmeen has just been publicly fired from her television job, so the trip to India is a welcome break to help her pick up the pieces of her broken career. Shirina's in-laws are pushing her to make a pivotal decision about her married life; time away will help her decide whether to meekly obey, or to bravely stand up for herself for the first time.
Arriving in India, these sisters will make unexpected discoveries about themselves, their mother, and their lives—and learn the real story behind the trip Rajni took with their Mother long ago—a momentous journey that resulted in Mum never being able to return to India again."
by Richard Russo
(*Coming July 30, 2019)
"From the Pulitzer Prize-winning Richard Russo–in his first stand-alone novel in a decade–comes a new revelation: a gripping story about the abiding yet complex power of friendship.
One beautiful September day, three sixty-six-year old men convene on Martha's Vineyard, friends ever since meeting in college circa the sixties. They couldn't have been more different then, or even today–Lincoln's a commercial real estate broker, Teddy a tiny-press publisher, and Mickey a musician beyond his rockin' age. But each man holds his own secrets, in addition to the monumental mystery that none of them has ever stopped puzzling over since a Memorial Day weekend right here on the Vineyard in 1971. Now, more than forty years later, as this new weekend unfolds, three lives and that of a significant other are displayed in their entirety while the distant past confounds the present like a relentless squall of surprise and discovery. Shot through with Russo's trademark comedy and humanity, Chances Are . . .also introduces a new level of suspense and menace that will quicken the reader's heartbeat throughout this absorbing saga of how friendship's bonds are every bit as constricting and rewarding as those of family or any other community."
by Elin Hilderbrand
"Welcome to the most tumultuous summer of the twentieth century. It's 1969, and for the Levin family, the times they are a-changing. Every year the children have looked forward to spending the summer at their grandmother's historic home in downtown Nantucket. But like so much else in America, nothing is the same: Blair, the oldest sister, is marooned in Boston, pregnant with twins and unable to travel. Middle sister Kirby, caught up in the thrilling vortex of civil rights protests and determined to be independent, takes a summer job on Martha's Vineyard. Only-son Tiger is an infantry soldier, recently deployed to Vietnam. Thirteen-year-old Jessie suddenly feels like an only child, marooned in the house with her out-of-touch grandmother and her worried mother, each of them hiding a troubling secret. As the summer heats up, Ted Kennedy sinks a car in Chappaquiddick, man flies to the moon, and Jessie and her family experience their own dramatic upheavals along with the rest of the country."
by Uzma Jalaluddin
"A modern-day Muslim Pride and Prejudice for a new generation of love.
Ayesha Shamsi has a lot going on. Her dreams of being a poet have been set aside for a teaching job so she can pay off her debts to her wealthy uncle. She lives with her boisterous Muslim family and is always being reminded that her flighty younger cousin, Hafsa, is close to rejecting her one hundredth marriage proposal. Though Ayesha is lonely, she doesn't want an arranged marriage. Then she meets Khalid, who is just as smart and handsome as he is conservative and judgmental. She is irritatingly attracted to someone who looks down on her choices and who dresses like he belongs in the seventh century.
When a surprise engagement is announced between Khalid and Hafsa, Ayesha is torn between how she feels about the straightforward Khalid and the unsettling new gossip she hears about his family. Looking into the rumors, she finds she has to deal with not only what she discovers about Khalid, but also the truth she realizes about herself."
by Joanne Ramos
"Nestled in New York's Hudson Valley is a luxury retreat boasting every amenity: organic meals, personal fitness trainers, daily massages—and all of it for free. In fact, you're paid big money to stay here—more than you've ever dreamed of. The catch? For nine months, you cannot leave the grounds, your movements are monitored, and you are cut off from your former life while you dedicate yourself to the task of producing the perfect baby. For someone else.
Jane, an immigrant from the Philippines, is in desperate search of a better future when she commits to being a "Host" at Golden Oaks—or the Farm, as residents call it. But now pregnant, fragile, consumed with worry for her family, Jane is determined to reconnect with her life outside. Yet she cannot leave the Farm or she will lose the life-changing fee she'll receive on the delivery of her child.
Gripping, provocative, heartbreaking, The Farm pushes to the extremes our thinking on motherhood, money, and merit and raises crucial questions about the trade-offs women will make to fortify their futures and the futures of those they love."
by Kim Michele Richardson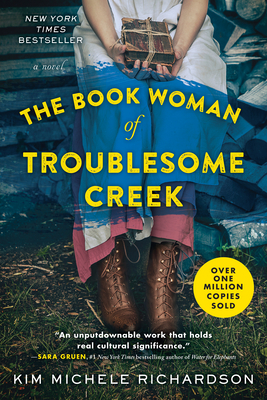 "The hardscrabble folks of Troublesome Creek have to scrap for everything―everything except books, that is.  Thanks to Roosevelt's Kentucky Pack Horse Library Project, Troublesome's got its very own  traveling librarian, Cussy Mary Carter. 
Cussy's not only a book woman, however,  she's also the last of her kind, her skin a shade of blue unlike most anyone else. Not everyone is keen on Cussy's family or the Library Project, and a Blue is often blamed for any whiff of trouble.  If Cussy wants to bring the joy of books to the hill folks, she's going to have to confront prejudice as old as the Appalachias and suspicion as deep as the holler. 
Inspired by the true blue-skinned people of Kentucky and the brave and dedicated Kentucky Pack Horse library service of the 1930s, The Book Woman of Troublesome Creek is a story of raw courage,  fierce strength, and one woman's belief that books can carry us anywhere ― even back home."
by Jasmine Guillory
(*Coming July 16th)
"The new exhilarating romance from The New York Times bestselling author of The Proposal! Maddie and Theo have two things in common: 1. Alexa is their best friend
2. They hate each other. After an "oops, we made a mistake" night together, neither one can stop thinking about the other. With Alexa's wedding rapidly approaching, Maddie and Theo both share bridal party responsibilities that require more interaction with each other than they're comfortable with. Underneath the sharp barbs they toss at each other is a simmering attraction that won't fade…But as with any engagement with a nemesis, there are unspoken rules that must be abided by. First and foremost, don't fall in love."
If you're looking for bookish ideas for you and your family this summer, subscribe to A Bookish Home and follow me on Twitter, Instagram, and Facebook @ABookishHome.
Happy Reading!
Laura Szaro Kopinski
Affiliate links are used in this post. At no extra cost to you, we may receive a small commission if you make a purchase through the links provided. Thanks for supporting A Bookish Home!