Lately I've had the best of bookish problems. My nightstand and living room are overflowing with books I can't wait to read.
Library holds that I've been pining for for ages are coming in all at once and I'm also reading so many wonderful books for upcoming podcast episodes.
Here are a few kidlit and adult books I've really enjoyed lately…
by Rebecca Makkai
I was fortunate enough to hear Rebecca Makkai speak at a writer's conference called Muse and the Marketplace, here in Boston. I love when writers talk about the journey from there to here and talked about carving out time on weekends to write her first novel at Starbucks. She'd have to pump for days in advance to make that time happen and also remind herself that this wasn't a silly hobby. Fast forward a few years and this completely absorbing, heartbreaking book about the AIDS epidemic in Chicago is a Pulitzer Prize and National Book Award finalist. This is truly one of the best books of adult fiction I've read in a long time and it's one that I'll be thinking about for years to come.
"In 1985, Yale Tishman, the development director for an art gallery in Chicago, is about to pull off an amazing coup, bringing in an extraordinary collection of 1920s paintings as a gift to the gallery. Yet as his career begins to flourish, the carnage of the AIDS epidemic grows around him. One by one, his friends are dying and after his friend Nico's funeral, the virus circles closer and closer to Yale himself. Soon the only person he has left is Fiona, Nico's little sister.
Thirty years later, Fiona is in Paris tracking down her estranged daughter who disappeared into a cult. While staying with an old friend, a famous photographer who documented the Chicago crisis, she finds herself finally grappling with the devastating ways AIDS affected her life and her relationship with her daughter. The two intertwining stories take us through the heartbreak of the eighties and the chaos of the modern world, as both Yale and Fiona struggle to find goodness in the midst of disaster."
by Jean Van't Hul
I love this book of arts and craft ideas from the creator of the blog, The Artful Parent. If you're looking for a bit of inspiration, this book will have you breaking out the art supplies with your little ones in no time. The photography is also beautiful and I love that the ideas are divided into seasons.
"Celebrating the seasons and holidays is a wonderful opportunity to embrace creativity together as a family. It's also a fun way to decorate, prepare for, and learn about the holidays we celebrate. In The Artful Year, you'll find art activites, crafts, recipes, and more to help make each season special. By doing so, your family will create memories and mementos, you'll develop creative growth in your children and yourself, and you'll have lots of fun! The book includes."
by Ali Benjamin
I was a huge fan of Ali Benjamin's first book, The Thing About Jellyfish so I was thrilled to see that she had a new one coming out. Ali captures that middle grade voice and the dynamics between kids so well in this quirky, thought-provoking read. I'm really looking forward to having Ali Benjamin on the podcast to discuss her creative process and writing journey.
Stay tuned for an upcoming episode of A Bookish Home, the podcast with author Ali Benjamin.
"When Caitlyn Breen begins her disorienting new life at the rural Mitchell School–where the students take care of real live goats and study long-dead philosophers, and where there are only ten other students in the entire seventh grade–it seems like nobody can stop talking about some kid named Paulie Fink.
Depending on whom you ask, Paulie was either a hilarious class clown, a relentless troublemaker, a hapless klutz, or an evil genius. One thing's for sure, though: The kid was totally legendary. Now he's disappeared, and Caitlyn finds herself leading a reality-show-style competition to find the school's next great Paulie Fink. With each challenge, Caitlyn struggles to understand a person she never met…but it's what she discovers about herself that most surprises her."
Words by Kyo Maclear, illustrated by Julie Morstad
From the first pages, the rich, vibrant illustrations in this picture book completely grabbed me. I looked up the illustrator and realized that it's no wonder. Julie Morstad is also the artist behind several other books whose illustrations I adored– House of Dreams: The Life of L.M. Montgomery, How To, Swan: The Life and Dance of Anna Pavlova, and When Green Becomes Tomatoes: Poems for All Seasons. If you're looking for a captivating read aloud about an inspiring woman in history, look no further.
"A dazzling picture book biography of one of the world's most influential designers, Elsa Schiaparelli.
By the 1930s Elsa Schiaparelli had captivated the fashion world in Paris, but before that, she was a little girl in Rome who didn't feel pretty at all. Bloom: A Story of Fashion Designer Elsa Schiaparelli is the enchanting story for young readers of how a young girl used her imagination and emerged from plain to extraordinary."
by Pamela Hickman, illustrated by Carolyn Gavin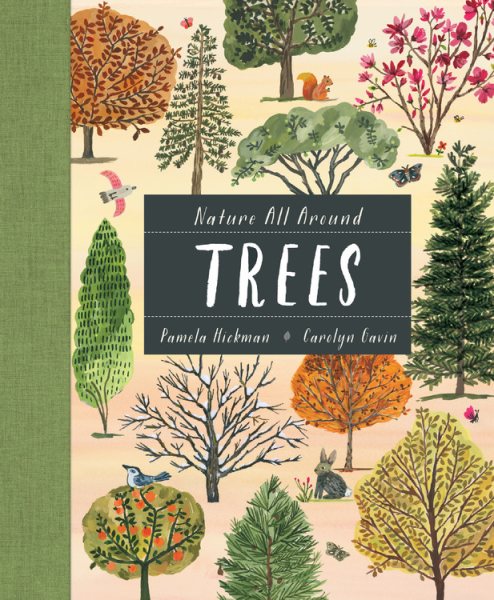 I love this new children's nonfiction title. I'm trying to be more outdoorsy with my toddler and we often go "say hello" to the different trees in our yard. This is the perfect book to read together and then try to identify nearby trees, learn about some different types, and explain some of the science behind the changes we witness from season to season.
"This comprehensive and beautifully illustrated introduction to trees and the important role they play is part of the essential Nature All Around series. The book first explores the parts of trees, their life cycles, the difference between deciduous and evergreen trees, leaf types and the processes of photosynthesis and respiration. Then it takes readers through a year in the life cycle of trees, describing what happens during each of the four seasons. Readers will discover the many ways trees are vital to the environment and how various animals can share one tree as a home."
by Bill Martin Jr., illustrated by Eric Carle
This is a book that has really grown on me as a parent. At first, I didn't see what the fuss was about, but watching how much my toddler adores it, I've come around. It's the perfect book for little ones to gain some confidence "reading" aloud to you, with it's simple sing-songsy text and bright, bold illustrations.
"A big happy frog, a plump purple cat, a handsome blue horse, and a soft yellow duck–all parade across the pages of this delightful book. Children will immediately respond to Eric Carle's flat, boldly colored collages. Combined with Bill Martin's singsong text, they create unforgettable images of these endearing animals."
What have you been reading? Leave a note in the comments or let me know on your favorite social media

@

ABookishHome.
Have you subscribed to A Bookish Home yet? Sign up to receive an email every time there is a new post or podcast episode.
Happy Reading!
Laura Szaro Kopinski
Affiliate links are used in this post. At no extra cost to you, we may receive a small commission if you make a purchase through the links provided. Thanks for supporting A Bookish Home!