Are you in the Boston area and looking for a bookish event to add to your calendar?
These are just some of the fabulous authors coming to bookstores and libraries in the Boston area next month. Some of these events require tickets so be sure to book your spot soon!
Not in the Boston area? This list is still a great way to find a book to add to your TBR list and get to the top of the library holds list. And be sure to check the events calendars for your local libraries and bookstores.
Chris Van Dusen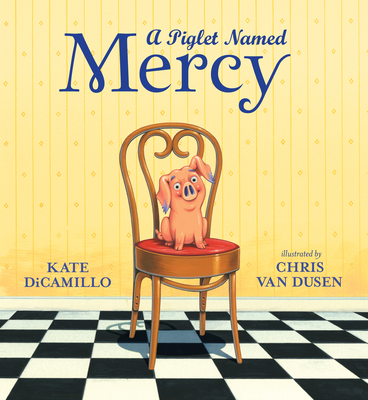 "Every porcine wonder was once a piglet! Celebrate the joy of a new arrival with this endearing picture-book prequel to the New York Times best-selling Mercy Watson series.
Mr. Watson and Mrs. Watson live ordinary lives. Sometimes their lives feel a bit too ordinary. Sometimes they wish something different would happen. And one day it does, when someone unpredictable finds her way to their front door. In a delightful origin story for the star of the Mercy Watson series, a tiny piglet brings love (and chaos) to Deckawoo Drive — and the Watsons' lives will never be the same."
For more information visit the event website.
Rajani LaRocca
"Please join us on Sunday, June 2 at 3pm, when Rajani LaRocca launches her middle grade novel, Midsummer's Mayhem!
Rajani LaRocca was born in Bangalore, India, and immigrated to the US with her parents when she was a baby. She grew up in Louisville, Kentucky, graduated from Harvard with both a BA and an MD, and has worked as a primary care physician since 2001. She lives in Concord with her family."
"An Unlikely Story is hosting a launch party like no other, with not one but TWO beloved authors! Jenna Blum will launch the paperback of The Lost Family in conversations with New York Times bestselling author Jane Green, who will be introducing her latest novel, The Friends We Keep. Please join us to celebrate—and bring your book clubs! Appetizers and cocktails from both books will be served.
Ticketing information to come!"

"Legendary YA author Sarah Dessen will be here to discuss and sign her new book, THE REST OF OUR STORY, a big-hearted, sweeping novel about a girl who reconnects with a part of her family she hasn't known since she was a little girl – and falls in love, all over the course of a magical summer. 
Ticketing information will be announced soon!"

"From Jennifer Weiner, the #1 New York Times bestselling author of Who Do You Love and In Her Shoes, comes a smart, thoughtful, and timely exploration of two sisters' lives from the 1950s to the present as they struggle to find their places—and be true to themselves—in a rapidly evolving world. Mrs. Everything is an ambitious, richly textured journey through history—and herstory—as these two sisters navigate a changing America over the course of their lives."
Scott Magoon
"Scott Magoon will be visiting to read, draw and present his new picture book LINUS THE LITTLE YELLOW PENCIL.
Linus and his eraser, Ernie, don't always see eye to eye. But with the family art show drawing near, these two will have to sharpen their collaboration to make something neither one could do on their own!
This ode to art by the illustrator of Spoon and Chopsticks points out the power of sharing the creative process and sticking with it."

Meg Medina
"Listening to a good author speak is like riding a bike—you never forget! An Unlikely Story welcomes middle-grade author Meg Medina to talk about her 2019 Newbery award-winning book, MERCI SUAREZ CHANGES GEARS. In the book, sixth-grader Merci is trying to balance feeling alone at her private school and feeling confused at home about the strange changes in her grandfather's behavior. At the event, Meg will talk about her thoughtful coming-of-age novel, answer audience questions, and sign books."
Author Dinner Party with Whitney Scharer, Marjan Kamali, and Grace Talusan
"We invite you to join The Silver Unicorn Bookstore and three local authors for a unique celebration of food and fiction at Orange Door Kitchen. Novelists Marjan Kamali, Grace Talusan and Whitney Scharer will sit down with guests for a delicious meal inspired by their recently published works and then linger over coffee for book signing and more conversation.
MENU:
ONE // The Body Papers // Lumpia Shanghai (Filipino egg roll) with sweet and sour dipping sauce
TWO // Age of Light // Moules Mariniere with smoked paprika, tomato and feta
THREE // The Stationary Shop // Persian Spiced Chicken with jeweled rice
FOUR // Rose Cardamom Avocado Ice Cream with cinnamon pastry
Tickets include a copy of the novel of your choice plus non-alcoholic beverages and a four-course meal prepared by Orange Door Kitchen. All three novels and alcoholic beverages will be available for purchase."
Stay tuned for a summer reading preview episode of A Bookish Home, the podcast with Paul Swydan, owner of Silver Unicorn Books in Acton, MA.