It is so wonderful when you have a stretch of time as a reader when you adore book after book.
Here are some of the books I've been over the moon about lately:
by Jon Cohen
Picking up this book in and of itself was magical for me. This was a recommendation that Anne Bogel gave me during our interview. (A dream come true!) I am a huge fan of her blog and What Should I Read Next? podcast. I had asked for suggestions given that I was re-reading Anne of Green Gables, Little Women, and Pride and Prejudice at the time. This is exactly the kind of uplifting book I had hoped for, with a quirky cast of characters in a community you come to deeply care about. A+ to Modern Mrs. Darcy! Harry's Trees also wound up being a January pick for her online book club.
"Thirty-four-year-old Harry Crane, lifelong lover of trees, works as an analyst in a treeless US Forest Service office. When his wife dies in a freak accident, devastated, he makes his way to the remote woods of northeastern Pennsylvania's Endless Mountains, intent on losing himself. But fate intervenes in the form of a fiercely determined young girl named Oriana. She, too, has lost someone—her father. And in the magical, willful world of her reckoning, Oriana believes that Harry is the key to finding her way back to him.
As Harry agrees to help the young girl, the unlikeliest of elements—a tree house, a Wolf, a small-town librarian and a book called The Grum's Ledger—come together to create the biggest sensation ever to descend upon the Endless Mountains…a golden adventure that will fulfill Oriana's wildest dreams and open the door to a new life for Harry.
Harry's Trees is an uplifting tale about love, loss, friendship, and redemption. Fans of Fredrik Backman's A Man Called Ove and Gabrielle Zevin's The Storied Life of A.J. Fikry will find in its relentless good humor a much-needed remedy for these fraught times."
by Fredrik Backman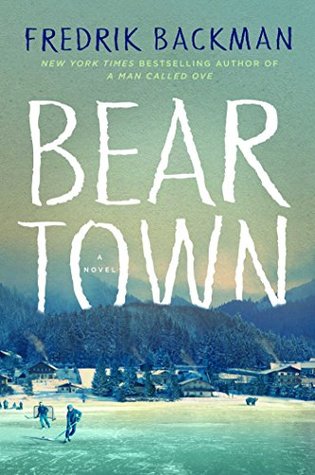 I wasn't convinced that a book about hockey would draw me in, but I kept hearing about this book and enjoyed A Man Called Ove, so I decided to finally try Beartown. I'm so glad I did. Fans of Friday Night Lights will find themselves captivated by this small town story, and like me, struggle to put it down.
"People say Beartown is finished. A tiny community nestled deep in the forest, it is slowly losing ground to the ever encroaching trees. But down by the lake stands an old ice rink, built generations ago by the working men who founded this town. And in that ice rink is the reason people in Beartown believe tomorrow will be better than today. Their junior ice hockey team is about to compete in the national semi-finals, and they actually have a shot at winning. All the hopes and dreams of this place now rest on the shoulders of a handful of teenage boys.
Being responsible for the hopes of an entire town is a heavy burden, and the semi-final match is the catalyst for a violent act that will leave a young girl traumatized and a town in turmoil. Accusations are made and, like ripples on a pond, they travel through all of Beartown, leaving no resident unaffected.
Beartown explores the hopes that bring a small community together, the secrets that tear it apart, and the courage it takes for an individual to go against the grain. In this story of a small forest town, Fredrik Backman has found the entire world."
by Elizabeth Acevedo
The Poet X is one of the best young adult novels I've ever read. Winner of numerous awards including the National Book Award, Pura Belpré Award, and the Michael L. Printz Award, this is an unforgettable coming-of-age story, filled with hope and writing that has to be stopped and savored.
"A young girl in Harlem discovers slam poetry as a way to understand her mother's religion and her own relationship to the world. Debut novel of renowned slam poet Elizabeth Acevedo.
Xiomara Batista feels unheard and unable to hide in her Harlem neighborhood. Ever since her body grew into curves, she has learned to let her fists and her fierceness do the talking.
But Xiomara has plenty she wants to say, and she pours all her frustration and passion onto the pages of a leather notebook, reciting the words to herself like prayers—especially after she catches feelings for a boy in her bio class named Aman, who her family can never know about. With Mami's determination to force her daughter to obey the laws of the church, Xiomara understands that her thoughts are best kept to herself.
So when she is invited to join her school's slam poetry club, she doesn't know how she could ever attend without her mami finding out, much less speak her words out loud. But still, she can't stop thinking about performing her poems.
Because in the face of a world that may not want to hear her, Xiomara refuses to be silent."
Merci Suarez Changes Gears
by Meg Medina
Merci Suarez Changes Gears  was recommended to me by Katie Cunningham, Senior Editor at Candlewick on the podcast. Her praise was spot on and I absolutely adored this book. I revisited Merci recently before my interview with author Meg Medina (coming soon!). This is the kind of story you want to press into the hands of middle schoolers–and the kind of story adults wish they had read during those tumultuous years! I could not have been more thrilled to see Meg Medina win the Newbery Medal for this outstanding book. Fingers crossed we see more of Merci and the Suarez family soon!
"Merci Suarez knew that sixth grade would be different, but she had no idea just how different. For starters, Merci has never been like the other kids at her private school in Florida, because she and her older brother, Roli, are scholarship students. They don't have a big house or a fancy boat, and they have to do extra community service to make up for their free tuition. So when bossy Edna Santos sets her sights on the new boy who happens to be Merci's school-assigned Sunshine Buddy, Merci becomes the target of Edna's jealousy. Things aren't going well at home, either: Merci's grandfather and most trusted ally, Lolo, has been acting strangely lately — forgetting important things, falling from his bike, and getting angry over nothing. No one in her family will tell Merci what's going on, so she's left to her own worries, while also feeling all on her own at school. In a coming-of-age tale full of humor and wisdom, award-winning author Meg Medina gets to the heart of the confusion and constant change that defines middle school — and the steadfast connection that defines family."
by Minh Lê, illustrated by Dan Santat
A boy and his grandfather are unable to speak the same language, resulting in frustration and distance, until they find a different way. Drawn Together is a deeply moving book about family and the power of connecting through stories.  I was so happy to see this book win the Asian/Pacific American Award for Literature.
"When a young boy visits his grandfather, their lack of a common language leads to confusion, frustration, and silence. But as they sit down to draw together, something magical happens-with a shared love of art and storytelling, the two form a bond that goes beyond words."
by Sandra Boynton
I spotted this book at my local bookstore over the weekend, Silver Unicorn Books and knew I had to get it for my little Valentine! We are huge Sandra Boynton fans around here and I Love You, Little Pookie is a wonderful new addition. This sweet story is sure to be shared on repeat like other Boynton favorites!
"I Love You, Little Pookie is an affectionate and heartfelt celebration—for Valentine's Day and every day—enlivened with those funny and captivating Boynton drawings. And Pookie's Mom wisely knows that the best way to say I love you is simply to say it:
Through the days,
through the nights,
come rain or come shine,
I love you, little Pookie.
You'll always be mine."
What have you been reading? Share your recommendations! And if you've picked up a book after reading the blog or listening to the podcast, I'd love to hear. Leave a note in the comments or find me on Twitter or Instagram @ABookishHome.
If you're enjoying the blog, be sure to tell a friend and subscribe to make sure you'll never miss a new post.
Happy Reading!
Laura Szaro Kopinski
Affiliate links are used in this post. At no extra cost to you, we may receive a small commission if you make a purchase through the links provided. Thanks for supporting A Bookish Home!