Are you looking for a bookish event to add to your calendar?
Here is just a sampling of some of the wonderful author events coming to the Boston area this month.
Be sure to check your local library and bookstore's event calendar to see what author events are coming to your community. 
Author events are also a great way to help build bookish enthusiasm in your family and inspire young readers. You can take your little one to a kidlit author event or bring them along while you hear from one of your favorite authors. Bonus: they'll see you modeling an active reading life!
Tuesday, October 2nd – 6pm at Brattle Theatre, Cambridge: sponsored by Harvard Bookstore
"Harvard Book Store welcomes bestselling author STEVEN JOHNSON—host and co-creator of How We Got to Now—for a discussion of his latest book, Farsighted: How We Make the Decisions That Matter the Most."
You can find more information about the event here.
The Benefits of Being An Octopus is available on Indiebound and Amazon.
Saturday, October 13th
Boston Book Festival
"Celebrating the power of words to stimulate, agitate, unite, delight,
and inspire, Boston Book Festival presents year-round events
culminating in an annual festival that promotes a culture of reading
and ideas and enhances the vibrancy of our city."
The Boston Book Festival is an event I look forward to every year.  2018  presenters include a wide range of stellar authors including Kate DiCamillo, Tayari Jones, Doris Kearns Goodwin, Jonathan Auxier, Louise Miller, Fatima Farheen Mirza, and more.
For more information you can visit the event website.
On October 11th, I will also be sharing an interview with Boston Book Festival deputy director Norah Piehl on the A Bookish Home podcast.
Saturday, October 13th – 10am at the Eric Carle Museum, Amherst
Book Party with Mo Willems
This would be well worth the drive to Amherst to get to see the author of Elephant and Piggie and the Pigeon books in person!
"GO NUTS!" at The Carle as we celebrate the new book in Mo Willems' beginning-reader series, Unlimited Squirrels: I Lost My Tooth! In I Lost My Tooth!, meet an ensemble cast of squirrels and learn fun jokes and nutty facts. Listen to Mo as he reads from his new book, watch films, and create "Squirrel-scapes" in the Art Studio."

"Please join us on Sunday, October 14 at 3pm, when Doris Kearns Goodwin presents her new work, Leadership: In Turbulent Times. The event will be held at Trinitarian Congregational Church (54 Walden Street) in Concord. Doors open at 2:15 This is a free ticketed event. Tickets will be distributed beginning at noon on Sunday, October 14, at the back desk of the Concord Bookshop(near Young Readers); limit two tickets per person. We do expect the event venue to fill, and will announce on social media and signage on the Bookshop doors when all tickets have been distributed. Every person attending the speaker program must have an admission ticket, which will also be used to enter the book-signing line following Ms. Goodwin's talk.
Sunday, October 21st – 1pm at the Eric Carle Museum
Our Voice: Gallery Talk with Ekua Holmes, Gordon C. James, and Jerry Pinkney
Thursday, October 25th – 6pm at Congregation Kehillath-Israel, sponsored by Brookline Booksmith
Jason Reynolds, Lu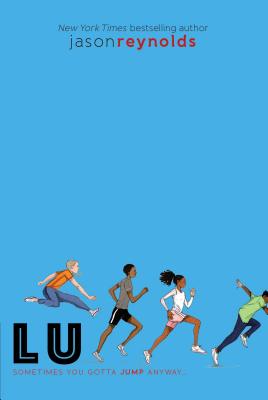 "This event will take place at Congregation Kehillath-Israel. Purchase tickets HERE.Celebrated children's author Jason Reynolds discusses Lu, the fourth and final book in the Track series. Lu was born to be cocaptain of the Defenders. Well, actually, he was born albino, but that's got nothing to do with being a track star. Lu has swagger, plus the talent to back it up, and with all that—not to mention the gold chains and diamond earrings—no one's gonna outshine him. Lu knows he can lead Ghost, Patina, Sunny, and the team to victory at the championships, but it might not be as easy as it seems. Suddenly, there are hurdles in Lu's way—literally and not-so-literally—and Lu needs to figure out, fast, what winning the gold really means. Starting with National Book Award finalist Ghost, the Track series follows the four rookie members of a middle school track team.
Friday, October 26th at 7:30pm at Concord Library
Concord Festival of Authors: John Matteson, presented by Orchard House
"In honor of the Little Women Sesquicentennial Celebration, Louisa May Alcott's Orchard House presents Pulitzer Prize winner Prof. John T. Matteson.  In addition to discussing the enduring nature of Little Women, Professor Matteson will offer insights into and an advance preview of his forthcoming book,which is primarily focused on the Battle of Fredericksburg.  This event will take place on Friday, October 26th at 7:30 pm at the Concord Free Public Library."
You can find more information about this event here.
Monday, October 29th – 6pm at the Boston Public Library, Copley
What bookish events are you planning to attend this month? I'd love to hear!  Leave a note in the comments or let me know on Twitter @ABookishHome.
And if you're enjoying the blog, be sure to tell a friend and subscribe to make sure you'll never miss a new post.
Happy Reading!
Laura Szaro Kopinski
Note: As an Amazon Associate I earn from qualifying purchases.  I also participate in the Indiebound Affiliate program.